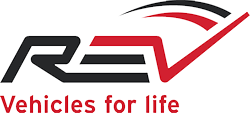 COMPANY OVERVIEW
REV is a leading diversified manufacturer of specialty vehicles to North America, as well as export markets. The company operates in three industry segments: Fire & Emergency, Commercial, and Recreation Vehicles, and owns 26 vehicle brands. Within the Fire & Emergency segment, REV offers an extensive line of fire apparatus under the E-ONE, KME, Ferrara, Spartan, Ladder Tower and Smeal brand names. Additionally, the Company offers a full line of ambulances and rescue vehicles under seven different brand names, including AEV, Horton, Road Rescue and Wheeled Coach. Within the Recreation Vehicle segment, the Company produces Class A, Class B, and Class C, recreation vehicles and towable campers under the iconic names of American Coach, Holiday Rambler, Fleetwood RV, Renegade, Midwest Automotive Designs and LANCE. Within the Commercial segment, the Company produces Collins school and ENC transit buses and also markets terminal trucks and street sweepers under Capacity and Laymor, respectively.
WEBSITE
SECTOR
Diversified Specialty Vehicle Manufacturing
REVENUES
$2,378 million
*LTM revenue for quarter-ended January 31, 2023.
FUND
AIPCF IV
HEADQUARTERS
Milwaukee, WI
FOOTPRINT
21 Manufacturing facilities across North America
EMPLOYEES
6,857
ACQUISITION YEAR
2006